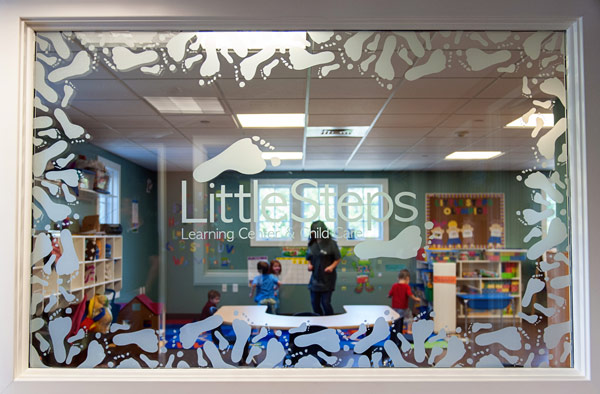 We are grateful for the great things that parents just like you are saying about us.
These testimonials are from our Google+ Local Page. View our Google+ page for more details.
Kara P.

"Little Steps provides fantastic childcare! As a new parent I was anxious about leaving my child when I went back to work but knowing I was leaving my baby with such wonderful, caring, knowledgeable people made the transition a lot easier. The staff is amazing. They are always available if you have questions or concerns or just want to check in. They also conveniently provide detailed updates on your child's day through a phone app. The facility is great as well. It is clean and bright and fun. My family could not be happier with our experience at Little Steps and would highly recommend it."
Leah A.

"Little Steps is absolutely wonderful! The staff is knowledgeable, caring, friendly and professional. The facility is new and secure and provides children with an environment where they can thrive and have fun. As a parent, I feel 100% happy and comfortable leaving my son here, simply because he has such a good time. Little Steps is by far the best value around, and what you get exceeds all expectations. We could not be more happy with Little Steps and look forward to sending our children here for years to come!"
Katie M.

"We can't say enough great things about this place. The staff is unbelievably caring and fun, the place is brand new and gorgeous, and the price is super reasonable. Best of all, my 2 year old son loves it! I don't have to drag him, kicking and screaming. He actually grabs his backpack and asks to go. Amazing!"
Ashley W.

"As a new mom heading back to work I wanted to find a place that was caring, clean and safe for my little one. I found all three and more at Little Steps Learning in Scituate, MA. My husband and I looked at many locations on the South Shore. When I first walked in I immediately noticed how clean the facility was. They have individual cribs for the babies with plenty of storage to leave all of my sons items. They encourage family visits, hanging pictures of your family in your babies space so they feel comfortable, playtime etc. I immediately knew this was the place to send our son. And the location right by the Greenbush train station makes my commute into the city even easier! Our son loves his care takers at Little Steps."
Greg M.

We were at another daycare prior to Little Steps. So happy our little one (2 years old) is here now. The rooms are clean, well-maintained and exciting for the kids. The staff is wonderful. We get an email update of what our child did (with pictures) everyday. Little Steps really goes the extra mile.
Chase W.

Unbelievably convenient location in Scituate, MA near the Greenbush line, 3A, and Harbor…. The daycare facility is 100% new, beautiful, clean, and secure. The best part of this facility is that while it is as nice as one of the bigger chain preschool or day care facilities, it is a mom and pop type place with wonderful owners who genuinely care about the kids and community! Definitely check it out if you are in Marshfield or Scituate areas, or commute from Norwell to Boston via the commuter rail.
Jonathan H.

We have been going to Little Steps since they opened and have never been disappointed. The facility is brand new and very clean. We drive to Scituate from Hanover every day because this child care facility impressed us the most and we can commute to Boston just as easy via 3A. The owners truly care about the kids and have young children of their own. They were very accommodating and provided a tour of the facility.